Bone Study 1
AlgaeCal Plus and Strontium Boost Increase Adult Bone Density after Six Months
This human study involving more than 200 women and men found that AlgaeCal formulations increased bone density by more than 2% on average. To gain bone density at all is an unusual finding as humans normally lose approximately 1% of bone each year after age 40. This open label study measured bone density of participants at the beginning, then again after six months of taking AlgaeCal formulations (including strontium). The primary outcome measure was bone mineral density and a secondary measure was safety as reported in a panel of 43 blood tests along with quality of life questionnaire. Calcium studies often report an "increase in bone density", but it is never an outright increase – it is an increase compared to the placebo group which is declining – so the participants are actually losing bone. This study is a landmark result with a real increase in BMD.
Bone Study 2
Examines the Effect of 3 AlgaeCal Formulations on Post-Menopausal Women's Bone Density at One Year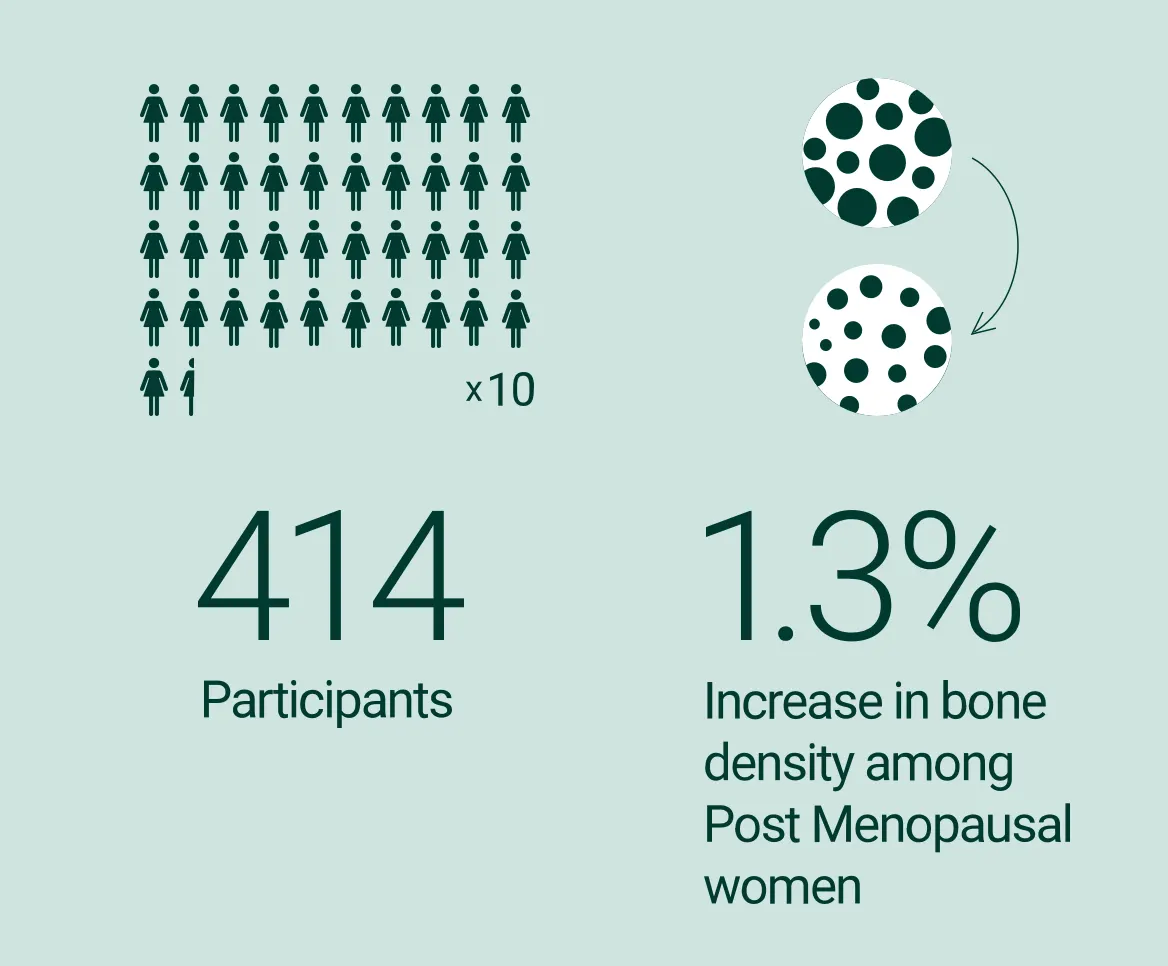 Three groups of post-menopausal women each took different AlgaeCal formulations with all groups increasing bone density at one year. The smallest average increase among the 3 groups was 1.3% – an extraordinary result since traditional calcium supplements do not increase bone density.
This comparative effectiveness study measured bone density via DEXA scan at baseline and then again at 6 months and one year. AlgaeCal's results were compared to published data on traditional calcium supplements BMD scores. Post menopausal women are expected to lose approximately 1% of bone density per year with traditional calcium supplements only slowing that rate of loss slightly.
Bone Study 3
Women who took AlgaeCal Plus and Strontium Boost for 7 Years Showed Continually Increasing Bone Density, plus Safety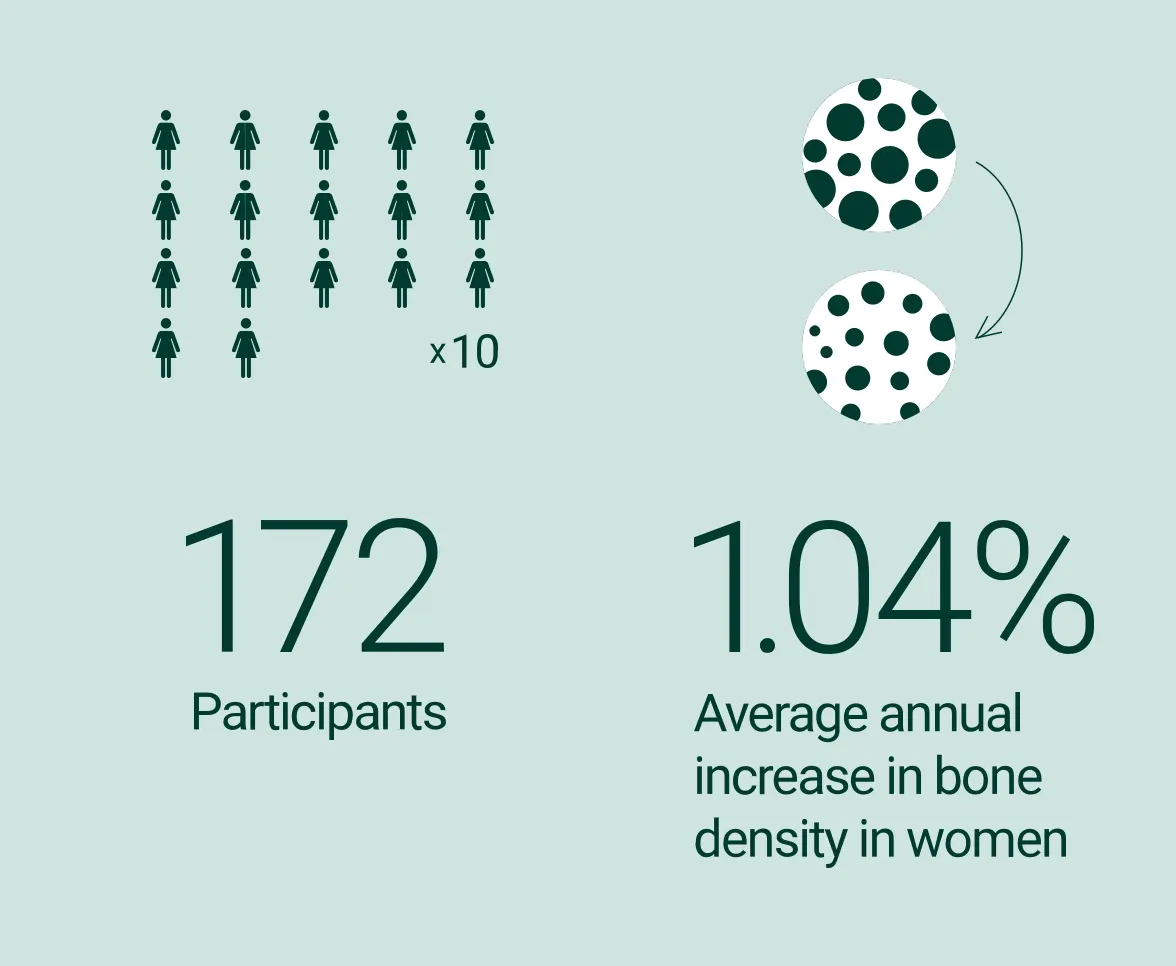 JACN Ragus SealBone studies one and two showed adults increase bone density in one year or less with AlgaeCal formulations, but the question of what happened to bone density in years following remained unanswered. This study showed women in their mid 60's gained 7.3% more bone over 7 years – and that it happened in a linear fashion with about 1% added per year. Safety was well established by a panel of 45 blood chemistries drawn at baseline and ending. This is significant given recent studies suggesting traditional calcium supplements may increase cardiovascular risks.
This study was published in the Journal of the American College of Nutrition in February 2016.

Osteo Study
Comparative Effects of AlgaeCal Calcium with Traditional Calciums on Human Bone Building Cells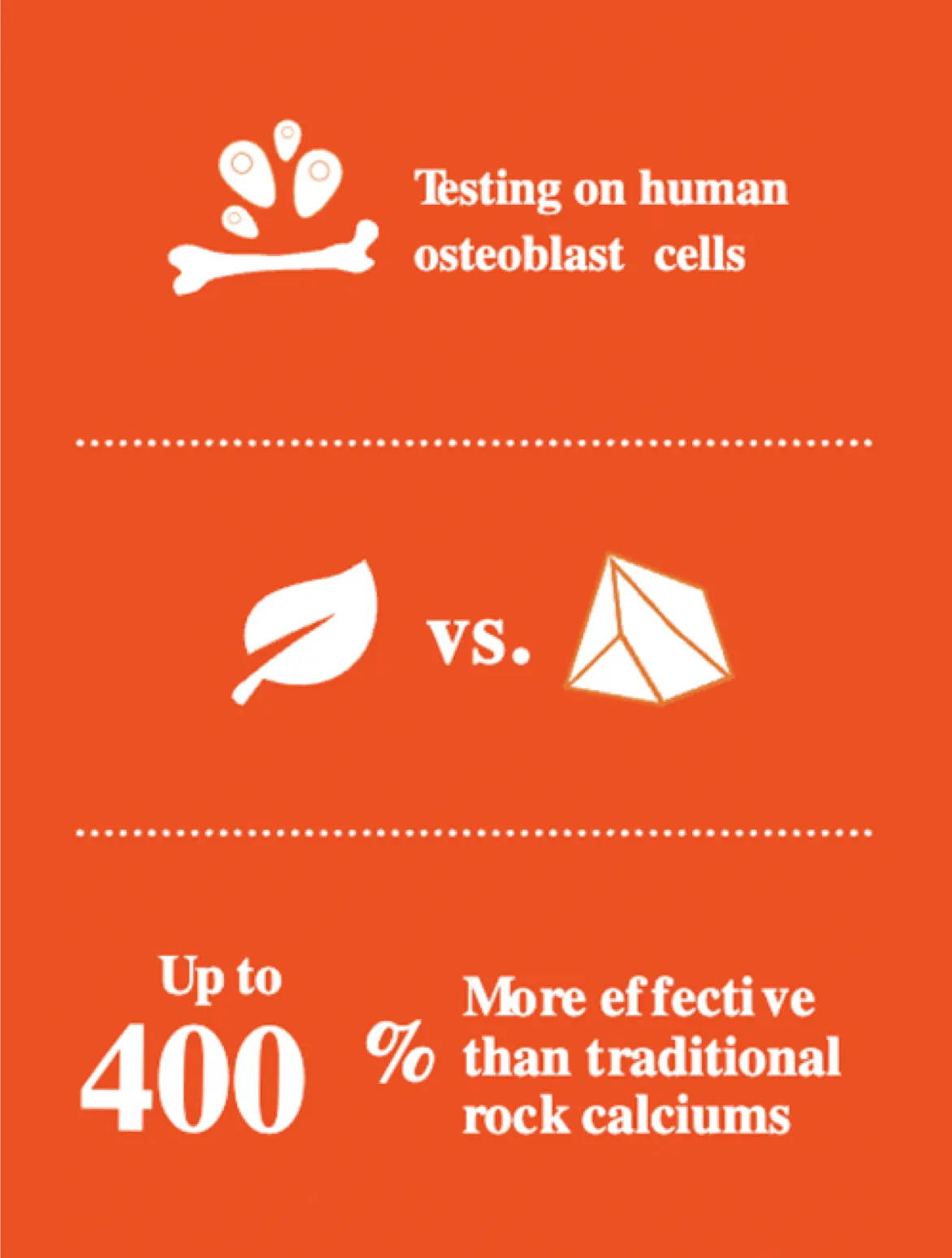 This study provides evidence that AlgaeCal calcium powder is a more "bone cell friendly" form of calcium. After more than 80 years of traditional limestone based calcium supplements, this study shows that a more bio-accessible plant form is now available.
Researchers from the Harvard Medical School and University of Connecticut, collaborated on this landmark study which was In direct head-to-head tests, the scientists compared the effects of AlgaeCal with the two top-sellers, calcium carbonate and calcium citrate. Focused on the proliferation, mineralization and oxidative stress in cultured human osteoblast cells, the study results showed that AlgaeCal®, increased alkaline phosphatase activity 200 percent more effectively than calcium carbonate and 250 percent better than calcium citrate.
In addition, AlgaeCal outperformed calcium carbonate and calcium citrate by 300 and 400 percent respectively on DNA synthesis – the ability of these osteoblasts to produce new bone building cells.
This study has been published in the peer-reviewed journal, Molecular and Cellular Biochemistry.
Safety Study
Safety and Toxicological Evaluation of AlgaeCal, A Novel Plant-based Calcium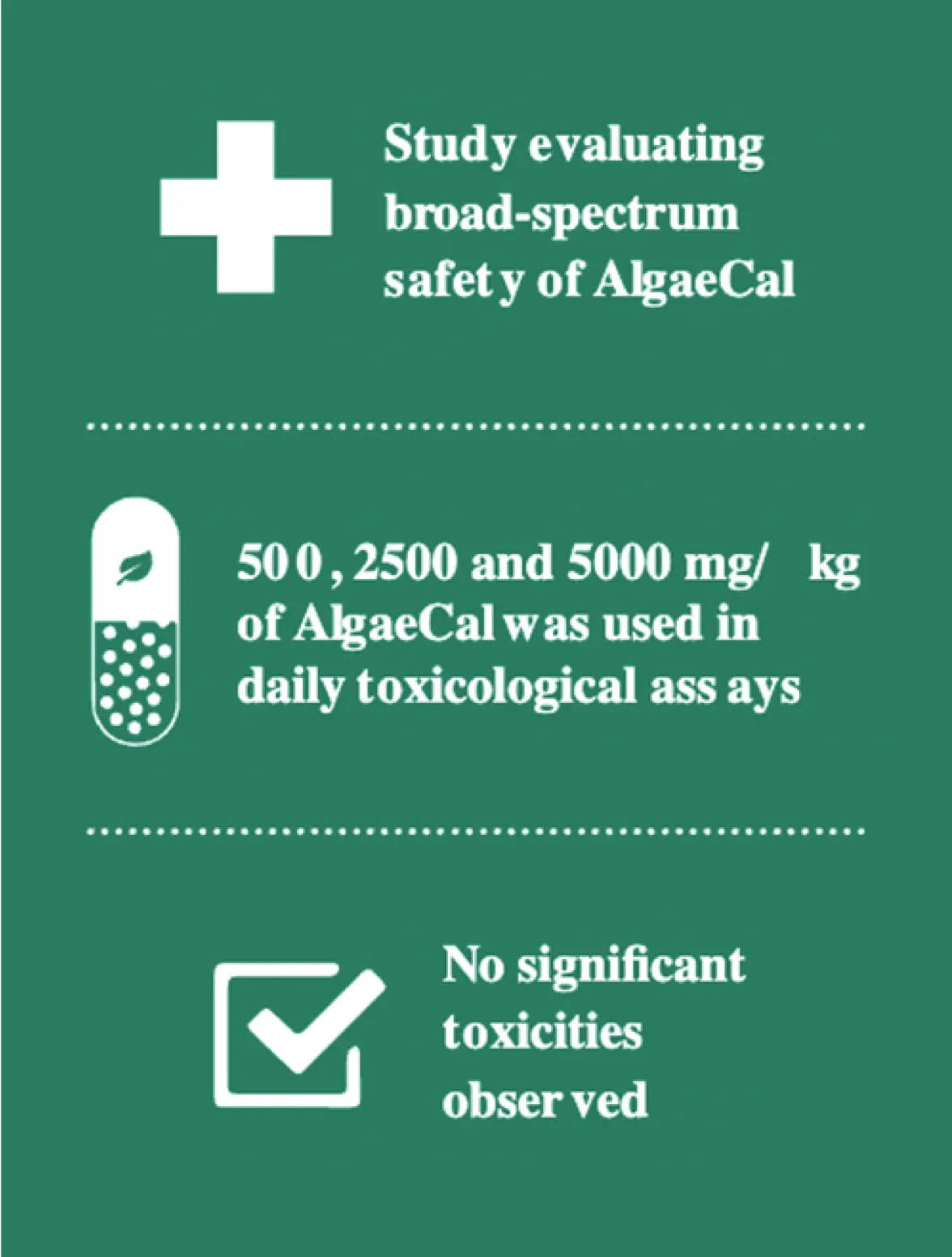 In preparation for GRAS (Generally Recognized as Safe) status which AlgaeCal achieved in May 2010, an excellent safety profile was established through testing. Six different safety studies have been conducted on AlgaeCal in the United States and Europe and combined into one manuscript which has been published in the peer-reviewed journal, Toxicology Mechanisms and Actions. These studies include one which tested the toxicity of AlgaeCal on pregnant and nursing female rats.